Travel and Accommodation
How to travel to Alicante?
By plane, to Alicante Airport. The closest airport to Alicante is the Alicante Airport (ALC). It takes around 30 minutes to reach the city center from the airport by bus which runs every 20 mins from 06:00 to 00:00.
By train, from Madrid. Madrid hosts the 2nd largest airport in Europe (MAD). The train from Madrid to Alicante takes 2.5 hours.
By train, from Valencia. It takes about 2.5 hours to reach Alicante from the region's capital, which also hosts an airport (VLC).
By train, from research hubs like Tübingen, Amsterdam, or London: go to Paris, then Barcelona, and to Alicante from there. It is more carbon-friendly, you will have beautiful views :) It takes around 19, 17 and 15 hours respectively. You can plan the routes on Rome2rio for example. See Interrail for international train tickets.
How to move around in Alicante?
Tram: from the university to reach the center of the city one can use the tram line L2 which takes around 25 minutes.
Bus: bus line 24 can be a good alternative to travel between the city center and the university.
Bike: the university and in general, the city is bike-friendly and you can rent bikes in different local stores. Protected bike paths are available all around the city except the downtown, where one-way routes host suggested bike routes.
Train: there is a train station at the center of Alicante and one near the university, however, this is at the other side of the university and walking to the location of the event takes another 25 minutes of walking from the train stop.
The estimated cost of 5 days in Alicante
These numbers are only estimates for the purpose to help participants calculate the costs of the travel.
Return flight from a European country to Alicante with luggage: 200 euros.
Accommodation for 4 nights: starting from 100 euros.
Transport from and to the Airport: 7.70 euros (C-6, 3.35 each way).
Transport from the train station: 0, the train station is in the center of the city.
Downtown Alicante to the university by bus (24) or tram (L2): 1.45 euros (14.5 overall for 5 days).
You can buy a 10 or 30 travel pass (10 travels should cover the need for Symposium) Look for the blue card (Bono Móbilis Multiviaje) The card with 10 travels cost 8,05€ making it the most convenient way of traveling in Alicante.
Renfe (free) train tickets: there is a Renfe train ticket for 10€ which can be reimbursed if you travel at least 16 times in local trains until December. See more at the Renfe website.
Breakfast, dinner: 15 euros per day (lunch and coffee breaks will be served at the conference)
Overall around 400 euros, plus conference fees.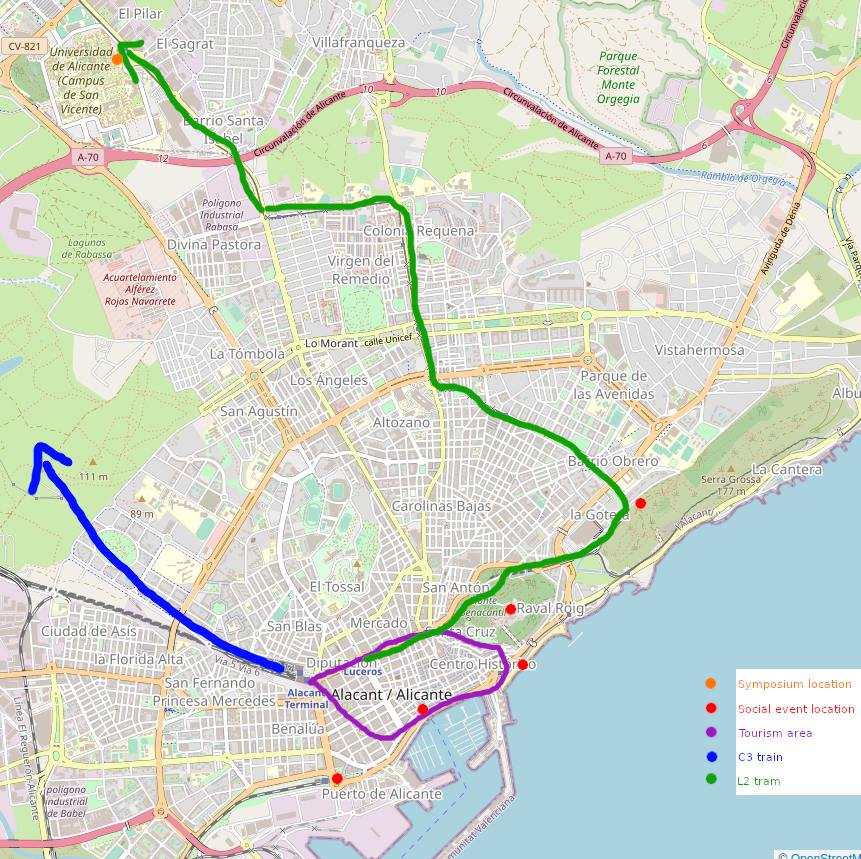 Accommodation options
Alicante's center (between 40 and 60€/night)
Alicante's center (around 100€/night)
Student's residence near University (around 40€/night)